Installing NX Client
Note: Write access is necessary to be able to continue with the installation, update or removal of the client software.
Double-click on the icon of the NX Client executable file you have downloaded from the NoMachine Web site: the NX Setup Wizard will take you through the installation.
Step 1
Select where to install NX Client and confirm by clicking on the Next button.

Step 2
The Setup Wizard will allow you to create the program shortcut in the Start Menu by default or in any folder of your choice.
To proceed, click on the Next button as usual.

Step 3
A further dialog will enable you to create an additional shortcut to the application on your desktop.
Confirm according to your personal preference.

Step 4
The final dialog will ask you to confirm the installation of NX Client on your machine.
Installing the NX Client on Mac OS X
Using Finder, navigate to the folder where you downloaded the NX client from NoMachine's site.
Double-click the nxclient-*.*.pkg file. That should open up the installer.
At the welcome screen, click Continue:



Select the volume where you want NX Client to be installed, and click Continue:



Click Upgrade:



Enter your password, and click OK:



To complete the installation, click Close:



After a successful installation, you should see NX utilities in the "Applications" folder of Finder, as shown here:

Load NX Connection Wizard
The first thing you'll want to do is start up the NX Client Connection Wizard. It should be in your applications if you're on a mac or in the start menu, in the NX Client folder if you're using Windows. It should start up looking like this: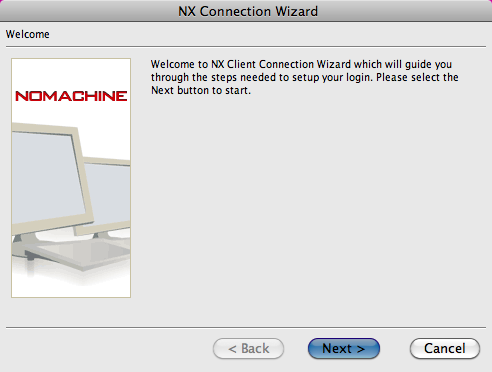 Click next.

Select a Profile Name and Machine to Connect to
Your profile name is in the box titled "Session". NX Client we'll save your info under this profile name. For this example we'll use "John's Session".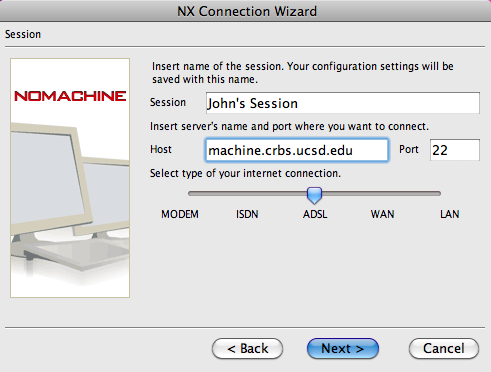 The host will be machine.crbs.ucsd.edu, where "machine" is the name of any of the CRBS workstations such as "war" and "famine". For this example we will use connect to phoenix, so the host will be "phoenix.crbs.ucsd.edu". Click "Next".

Select Desktop and Desktop Size
The next thing you'll need to do is set your desktop and it's size: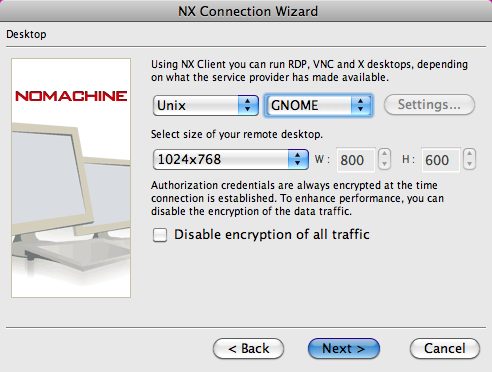 Next to the box that says "Unix", there will be a box that says "KDE". Click that and change it to "GNOME". Below that it says "select size of your desktop resolution". Unless your computer is greater than 8 years old, or you know you are running a low resolution, select "1024x768" to get a large desktop window for your connection. If you know you are running a low resolution, or would simply like a smaller desktop window, select a smaller resolution as appropriate. Click "Next".

Complete the Wizard
This is the next screen you'll see telling you that you've successfully created your profile:
Do not check in the "Show the Advanced Configuration dialog" box unless you know you will need to change specific settings. See the "settings" tab on this wiki for more details. Click "Finish".

Enter Your Username and Password
The next screen you'll see is this: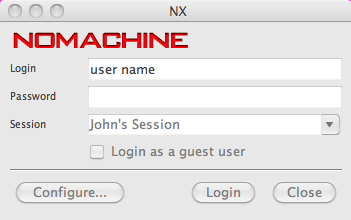 Enter your username next to "Login" and your password next to "Password". User your standard CRBS username and password. Click "Login". You should see a dialog box showing yourself being connected, it will look something like this: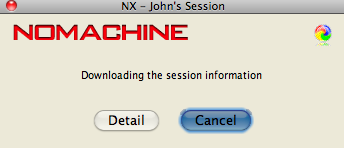 You Are Connected!
You should see yourself connected with a window that looks like this: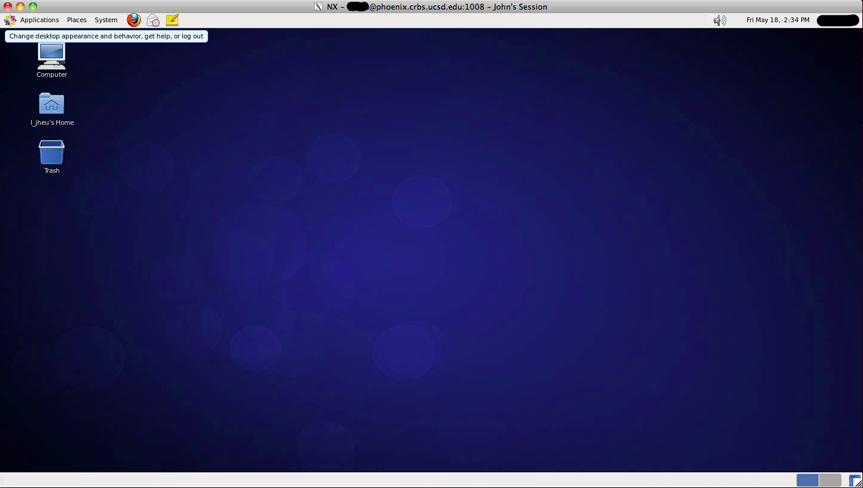 Click "System" in the top left and then "Log Out username" at any time to disconnect. Enjoy!